Welcome To BossFit Port Melbourne
BossFit Port Melbourne provides a wide range of personal training services, corporate training and small group training programs to help both individuals and organisations transform the way they look, feel and function!
BossFit Australia Pty Ltd was originally created in 2013 by Company Director, David Richardson, as a company that specialised in providing Corporate Wellness programs to businesses around Melbourne, Victoria. In 2016 the doors of our first studio, "BossFit Port Melbourne" opened for the first time and we began providing more training services for both individuals and organisations. After a substantial renovation and upgrade to our facility at Level 2/250 Bay Street and exactly 2 years later BossFit Port Melbourne was voted #1 Health & Wellbeing business in the "Best Of Port 2018 People's Choice Awards."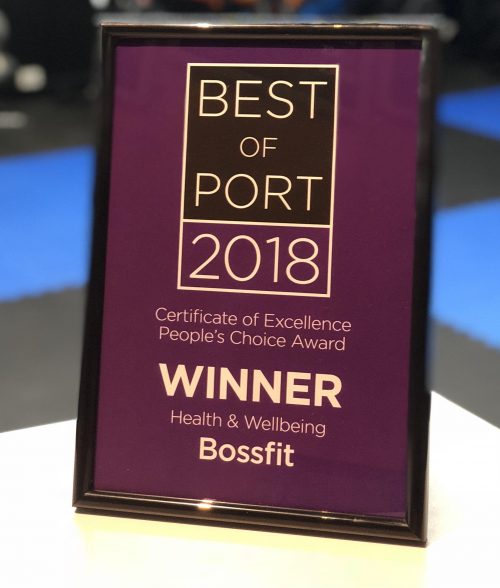 Whether you want to get fit, build muscle, lose body fat, rehabilitate or achieve a more specific personal goal, we will guide the way with the perfect program to suit your needs and budget. Our team of highly skilled and experienced personal trainers will provide the best possible 1on1 personal training service when you need individual attention and a range of small group training programs, with our friendly and supportive local community, when you need to reduce your training costs.
All of our 1on1 Personal Trainers are mature, experienced, friendly and ready to help you carve out a successful and safe path to achieve your health and fitness goals. If you are not sure where to start, book in for a free consultation and allow us to guide you in the right direction.
Our most popular (and cost effective) small group training program is our Intense Cardio Exercise (I.C.E.) training groups which are suitable for all fitness levels and run every Monday, Wednesday, Friday & Saturday. This small group training program is suitable for clients of all fitness levels without serious injuries and/or limitations. I.C.E. Group Training focuses on helping clients improve fitness, burn unwanted fat and build basic body awareness, control and strength. Each session is run on a timed interval format and clients are asked to perform different exercises at an appropriate intensity for their fitness level and goals, whether that be high or medium intensity.
We also run Focused Intense Resistance Exercise (F.I.R.E.) Training groups which are conducted in a smaller, more private setting on Tuesday, Thursday and Saturday. These sessions work with weights and are designed to build muscle, body shape and strength and are run in smaller groups so we can provide greater guidance as required when lifting heavier weights. Our members safety is always our number one priority so our F.I.R.E. Training programs include an initial 1on1 Functional Movement Screen to identify any weaknesses, imbalances and asymmetries before attempting to work with heavier loads. All programs are carefully constructed to suit personal needs and every result is recorded and analysed to ensure safe and appropriate progression. These F.I.R.E. Training groups are for select clients only, depending on goals, training experience, background and only on approved application.

All BossFit Port Melbourne small group training programs are based on an Australian body transformation system called Metabolic Precision which is a science based, research proven approach to exercise & nutrition that will help you safely shape up, get fit and burn fat in the least amount of time possible. Our exercise and nutrition training programs provide a higher quality of service and deliver a holistic, structured and professional program that delivers outstanding results & a life changing experience.
Whether you want to complete a fun run, obstacle race, transform your body or simply have more energy to keep up with your busy lifestyle, we'll get you BossFit at work, and play!
The Corporate Training Specialists
BossFit Port Melbourne specialise in helping local workplaces improve the health & wellbeing of their workforce. Employees who are fit & healthy are more productive, take less sick days and make for a happier workplace. Transform your workforce and get the edge over your competition with our range of services.
Our corporate training packages are tailored to suit company and employee goals and needs. We offer a range of specialised corporate packages including onsite corporate fat loss seminars, private bootcamp training programs and body transformation packages complete with expert nutrition and exercise advice. Whether you have a great team that you want to reward or need a little help to improve staff morale, a fit & healthy team are a happy team.
Check out our "MP Corporate" page for more info and to register for your no obligation free consultation to find out exactly how we can help you.