F.I.R.E. & I.C.E. are two extremely effective yet very different workouts. Learn how and when to utilise these in your weekly training program and you will understand exactly how to maximise results from exercise in the shortest time possible. In fact, an exercise program for the average person hoping to transform their body can be completed in anywhere between 2-5 hours per week when you know how. Can you set aside up to 3% of your week for exercise in order to achieve results? Sure you can!
Both F.I.R.E. & I.C.E. training sessions are part of Metabolic Precision's science based, research proven, body transformation system which has been developed over 25 years of research from clinical studies in some of the world's leading universities by Australia's Dr Paul Cribb amongst other world leading sports scientists.
Let's look at the differences between F.I.R.E. & I.C.E. -
I.C.E. - Intense Cardio Exercise -
"A science based style of high intensity exercise designed to maximise fitness & fat loss at the same time."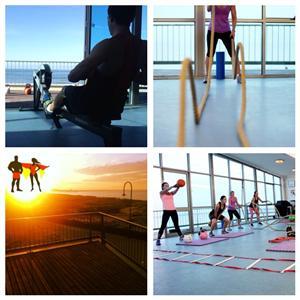 The cornerstone of I.C.E. training is structuring high intensity intervals into your training session. Intensity levels are relative to the individual which makes it suitable for almost all fitness levels and abilities. In fact, research has proven that 20 minutes of structured bursts of maximum effort workloads can burn up to three times the amount of fat compared to regular steady state cardio lasting up to 40 minutes!
Key points to focus on in your I.C.E. training sessions include:
- Focus on intensity, not duration (15-30 minutes is all it takes)
- Move / carry as much of your body as possible.
- Use a variety of effort levels to frequently exceed energy production thresholds.
- Perform varied workouts, activity, duration, and work intervals.
- Challenge yourself and practice activities you are not good at - you will burn more calories.
- Exercise outside when possible.
At BossFit Australia's I.C.E. training sessions you can expect: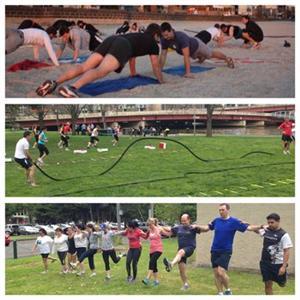 - Our I.C.E. sessions to run all year round (excluding holidays)
- A wide range of exercise challenges that will push you to your limits.
- Morning, evening and weekend sessions available means that there is a session to suit everybody's timetable.
- Small group training numbers that never exceed 15 people in a group.
- Support, motivation and technical instruction from an expert with over 10 years experience.
- One week free training before you sign up.
- Get started with our Special Nutrition Report and 9 Steps To Success.
- The best value for money training service available. Being able to train up to 6x per week for only $29.95pw!
- One of the best training views in Melbourne from our private training facility on Port Melbourne Beach overlooking Port Phillip Bay.
F.I.R.E. - Focused Intense Resistance Exercise -
"This style of resistance based training has been clinically proven to help deliver rapid improvements in strength, muscle tone and body shape in novice to elite humans aged from 18-78 years of age."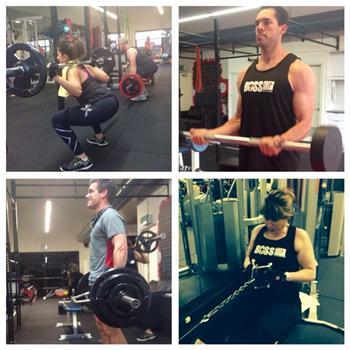 Why is building lean muscle so important?? Because every one of us begins losing muscle as we age beyond approx. 25 years of age. The more muscle we lose, the slower our metabolism becomes, the more body fat we accumulate and the weaker / sicker we gradually become. In fact, you could say that understanding how to build and maintain muscle via the right type and amount of exercise throughout one's life is the closest thing we have to "The Fountain Of Youth". If you have downloaded our FREE Fat Loss E-Course you will also know that the amount of muscle a person holds on their body is significantly correlated with the efficiency of their metabolism.
i.e.: "The more muscle you have, the faster your metabolism and the more efficient you are at burning fat!"
Once you start to build lean muscle you will notice :
- Significant improvements in body shape and composition (more muscle, less body fat).
- Increased strength and energy levels throughout the day.
- Better sleeping patterns
- Improved posture.
- Less injuries and illness.
- Increased metabolism & fat burning efficiency.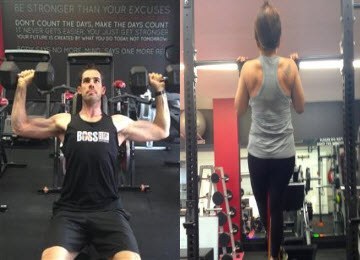 Key points to know about F.I.R.E. training include:
- F.I.R.E. training ideally needs to be completed in a gym/PT studio where you have access to a wide range of dumbbells, barbells, machines and weights.
- Each program should be carefully constructed following progressive overload principles.
- The most efficient programs utilise compound exercises that recruit the most amount of muscle possible.
- Workouts should NOT last longer than 45 minutes.
- Know when and how to utilise the MP warm up protocol for specific exercises and you can boost training potential by up to 20%! This can be used to smash through plateaus, reach new levels of strength and help you get the most out of your FIRE program.
- Our key objective with every rep of every set for each exercise is to achieve the "Nexus Point" - the exact biomechanics that achieves maximum muscle recruitment, activation and overload. The nexus point is achieved via a truly unique process taught to all Metabolic Precision Transformation Specialists called P.R.I.M.E. For Success!
P-osture & Position
R-ange Of Motion
I-dentify Areas For Improvement
M-onitor & Measure previous phases in relation to the nexus point and overload
E-valuate & Evolve the exercise (to eliminate weak points, optimise strength curves and provide variation when required.)
All BossFit Australia F.I.R.E. training programs include:
- A 1on1 assessment and consultation with your MP Level 4 Transformation Specialist. From this session we are able to construct the perfect F.I.R.E. training program for your training goals that will include exercise selection to recruit the most muscle and safely trigger the fastest adaptations.
- Girth measurements, and optional photos taken before, after and mid-program help show progress and program efficiency.
- Train with a MP Level 4 Transformation Specialist and personal trainer with over 15 years experience.
- You $ave over 50% on training expenses, with 1on1 PT prices usually ranging from $80+ per session and our F.I.R.E. training packages working out at less than $40 per session!!
- Train in a select F.I.R.E. group of only 2-4 people which gives you more personalised attention, support and motivation.
- Learn MP training principles that will serve you for life and how to be self sufficient should you decide to train by yourself in the future.
- All F.I.R.E. training participants are by approved application only and based on an individual's training attitude, ability and commitment.
- We run 3 separate 12 week FIRE training programs each year which means you have 3 opportunities each calendar year to participate in one or all of these specialised programs. They always book out so make sure you register your interest early and plan ahead to ensure you don't miss out.
F.I.R.E. training is so much more than just lifting weights. It is a skill that needs to be taught, developed and re-enforced consistently. Learning how to maximise every repetition, every set in every workout takes time, focus, commitment and intensity. These are the building blocks to success in every program and when you see the results, it makes it all worth it!
Are you ready to transform your body and be the next success story? Have a look at when our next F.I.R.E. program is coming up and enquire today before it books out...
Back

To Blog