You may want a body transformation but are you ready for what is involved in transforming your body?
- Breaking old habits and creating new ones.
- Eating more fresh foods and less processed.
- Being organised enough to plan and prepare regularly for your meals.
- Are you ready to set time aside to educate yourself on nutrition and exactly what is required for you to achieve your nutrition and training goals? After all, what do you really know about proteins, carbohydrates, fats, vitamins, minerals, metabolic precision, fat loss, muscle gain, etc. And what do you need to understand and focus on first?
- Can you bring yourself to start saying "no" to certain things that are not going to help lead you towards success in achieving the goals you have set out.
In order to get started have a look around the kitchen at home and have a think about whether or not you are going to have the right tools in the kitchen to help make your job that little bit quicker, easier and more enjoyable. Here are our top 5 kitchen tools that can make your job of transforming your body a whole lot easier! How many do you currently have?
The Magic Bullet - We live in a fast paced world and having one of these little beauties can give you the power to whip up a metabolically precise liquid meal designed to speed fat loss in about 90 seconds flat. As per your metabolic precision requirements just make sure to include your first class protein, correct carbohydrate choice and best type of fat for the ultimate success! (Can often be found on tv commercials and/or large department stores.)
Slow Cooker - Wouldn't it be nice if we all had our own personal chefs at home, eagerly preparing our meals for when we get home from a long day at work? Unless you are seriously wealthy or lucky enough to have your own personal chef at home you might as well get acquainted with the next best thing, your slow cooker. Set aside an extra 10 minutes in the morning to throw the required ingredients together, set the timer and off to work you go. Let the slow cooker work it's magic throughout the day and give yourself more time to chillax when you get home from work and enjoy a mouth watering slow cooked, metabolically precise fat burning meal. (Usually found in supermarkets very cheap or large department stores.)
Slicer N' Dicer - If you are already a ninja with the knives in the kitchen then you won't need one of these. But if you are like me and often end up chopping off the ends of your fingers when slicing and dicing vegetables then get one of these veggie chopping ninja's in a box. With heaps of different settings I find this can half the amount of time I usually spend chopping veggies up the old fashioned way. (Can often be found on tv commercials and/or large department stores.)
Meal Size Plastic Containers - This might sound be pretty basic but when you start regularly cooking for 4-6 people with every meal you will find you need to be prepared to easily store your extra portions. Get into the habit of this and you will start to fill your fridge and freezer up with ready made meals pretty quickly that will make it easier for you to make consistently good nutrition choices. (Can be found in most supermarkets and cost no more than the spare change at the bottom of your pocket).
MP Cookbible - With over 100 recipes in the MP Cookbible it is nice to have so many different recipes to choose from and even more tips and strategies to make your new healthy life so much easier and tastier! When you start up a Transformation Challenge with your MP trainer you will receive your own Cookbible & even gain access to the latest added recipes within the MP Online Cookbible. All up you will have access to over 250 recipes designed to speed fat loss results and accelerate results that we all want to achieve starting yesterday!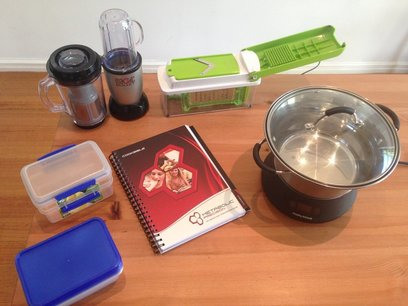 So If you are serious about transforming your body start with these 5 tools and make sure that you have downloaded BossFit Australia's FREE Fat Loss E-Course to start educating yourself about exactly how you can achieve the body of your dreams by eating lots of delicious food and without starving yourself.


Back

To Blog